The Library Adventure uses affiliate links, see our policies for more information.
In college, I took a Children's Lit class as part of my elementary education courses. One of my assignments was to read 25 Newbery Medal books. That class was one of my favorites in college.
I love to read. I love to discover new books. Many of the books I read became books that I read to my own children and those I taught in school. Here is a list of fifteen of my favorite Newbery Medal winners. I didn't include any of the honor books in my list of favorites, but I have read and enjoyed many of them as well.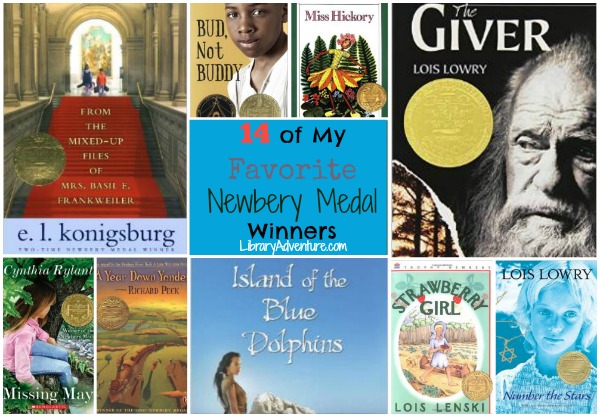 2001: A Year Down Yonder by Richard Peck
Mary Alice's childhood summers in Grandma Dowdel's sleepy Illinois town were packed with enough drama to fill the double bill of any picture show. But now she is fifteen, and faces a whole long year with Grandma, a woman well known for shaking up her neighbors-and everyone else! All Mary Alice can know for certain is this: when trying to predict how life with Grandma might turn out . . . better not.
2000: Bud, Not Buddy by Christopher Paul Curtis
It's 1936, in Flint, Michigan. Times may be hard, and ten-year-old Bud may be a motherless boy on the run, but Bud's got a few things going for him:

1. He has his own suitcase filled with his own important, secret things.

2. He's the author of Bud Caldwell's Rules and Things for Having a Funner Life and Making a Better Liar Out of Yourself.

3. His momma never told him who his father was, but she left a clue: flyers of Herman E. Calloway and his famous band, the Dusky Devastators of the Depression!!!!!!

Bud's got an idea that those flyers will lead him to his father. Once he decides to hit the road and find this mystery man, nothing can stop him–not hunger, not fear, not vampires, not even Herman E. Calloway himself.
1999: Holes by Louis Sachar
This winner of the Newbery Medal and the National Book Award features Stanley Yelnats, a kid who is under a curse. A curse that began with his no-good-dirty-rotten-pig-stealing-great-great-grandfather and has since followed generations of Yelnats. Now Stanley has been unjustly sent to a boys' detention center, Camp Green Lake, where the warden makes the boys "build character" by spending all day, every day, digging holes five feet wide and five feet deep. It doesn't take long for Stanley to realize there's more than character improvement going on at Camp Green Lake: the warden is looking for something. Stanley tries to dig up the truth in this inventive and darkly humorous tale of crime and punishment—and redemption.
1996: The Midwife's Apprentice by Karen Cushman
The girl known only as Brat has no family, no home, and no future until she meets Jane the Midwife and becomes her apprentice. As she helps the sharp-tempered Jane deliver babies, Brat–who renames herself Alyce–gains knowledge, confidence, and the courage to want something from life: "A full belly, a contented heart, and a place in this world." Medieval village life makes a lively backdrop for the funny, poignant story of how Alyce gets what she wants.
1994: The Giver by Lois Lowry
Jonas's world is perfect. Everything is under control. There is no war or fear of pain. There are no choices. Every person is assigned a role in the community. When Jonas turns 12 he is singled out to receive special training from The Giver. The Giver alone holds the memories of the true pain and pleasure of life. Now, it is time for Jonas to receive the truth. There is no turning back.
1993: Missing May by Cynthia Rylant
When May dies suddenly while gardening, Summer assumes she'll never see her beloved aunt again. But then Summer's Uncle Ob claims that May is on her way back–she has sent a sign from the spirit world.
Summer isn't sure she believes in the spirit world, but her quirky classmate Cletus Underwood–who befriends Ob during his time of mourning–does. So at Cletus' suggestion, Ob and Summer (with Cletus in tow) set off in search of Miriam B. Young, Small Medium at Large, whom they hope will explain May's departure and confirm her possible return.
1990: Number the Stars by Lois Lowry 
As the German troops begin their campaign to "relocate" all the Jews of Denmark, Annemarie Johansen's family takes in Annemarie's best friend, Ellen Rosen, and conceals her as part of the family. Through the eyes of ten-year-old Annemarie, we watch as the Danish Resistance smuggles almost the entire Jewish population of Denmark, nearly seven thousand people, across the sea to Sweden. The heroism of an entire nation reminds us that there was pride and human decency in the world even during a time of terror and war.
1986: Sarah, Plain and Tall by Patricia MacLachlan
Set in the late nineteenth century and told from young Anna's point of view, Sarah, Plain and Tall tells the story of how Sarah Elisabeth Wheaton comes from Maine to the prairie to answer Papa's advertisement for a wife and mother. Before Sarah arrives, Anna and her younger brother Caleb wait and wonder. Will Sarah be nice? Will she sing? Will she stay?
1978: Bridge to Terabithia by Katherine Paterson 
Jess Aarons has been practicing all summer so he can be the fastest runner in the fifth grade. And he almost is, until the new girl in school, Leslie Burke, outpaces him. The two become fast friends and spend most days in the woods behind Leslie's house, where they invent an enchanted land called Terabithia. One morning, Leslie goes to Terabithia without Jess and a tragedy occurs. It will take the love of his family and the strength that Leslie has given him for Jess to be able to deal with his grief.
1968: From the Mixed-Up Files of Mrs. Basil E. Frankweiler by E.L. Konigsburg
When suburban Claudia Kincaid decides to run away, she knows she doesn't just want to runfrom somewhere she wants to run to somewhere–to a place that is comfortable, beautiful, and preferably elegant. She chooses the Metropolitan Museum of Art in New York City. Knowing that her younger brother, Jamie, has money and thus can help her with the serious cash flow problem she invites him along. Once settled into the museum, Claudia and Jamie, find themselves caught up in the mystery of an angel statue that the museum purchased at an auction for a bargain price of $250. The statue is possibly an early work of the Renaissance master Michelangelo, and therefore worth millions. Is it? Or isn't it? Claudia is determined to find out. This quest leads Claudia to Mrs. Basil E. Frankweiler, the remarkable old woman who sold the statue and to some equally remarkable discoveries about herself.
1961: Island of the Blue Dolphins by Scott O'Dell
This is the story of Karana, the Indian girl who lived alone for years on the Island of the Blue Dolphins. Year after year, she watched one season pass into another and waited for a ship to take her away.
1959: The Witch of Blackbird Pond by Elizabeth George Speare
Sixteen-year-old Kit Tyler is marked by suspicion and disapproval from the moment she arrives on the unfamiliar shores of colonial Connecticut in 1687. Alone and desperate, she has been forced to leave her beloved home on the island of Barbados and join a family she has never met. Torn between her quest for belonging and her desire to be true to herself, Kit struggles to survive in a hostile place. Just when it seems she must give up, she finds a kindred spirit. But Kit's friendship with Hannah Tupper, believed by the colonists to be a witch, proves more taboo than she could have imagined and ultimately forces Kit to choose between her heart and her duty.
1950: The Door in the Wall by Marguerite de Angeli
As the son of a nobleman, Robin's destiny is changed suddenly when he falls ill and loses the use of his legs. When the great castle of Lindsay is in danger, Robin discovers that there is more than one way to serve his king
1947: Miss Hickory by Carolyn Sherwin Bailey
Most dolls lead a comfortable but unadventurous life. This was true of Miss Hickory until the fateful day that her owner, Ann, moves from her New Hampshire home to attend school in Boston—leaving Miss Hickory behind. For a small doll whose body is an apple-wood twig and whose head is a hickory nut, the prospect of spending a New Hampshire winter alone is frightening indeed. In this classic modern day fairy tale, what's a doll to do?

1946: Strawberry Girl by Lois Lenski
The land was theirs, but so were its hardships. Strawberries — big, ripe, and juicy. Ten-year-old Birdie Boyer can hardly wait to start picking them. But her family has just moved to the Florida backwoods, and they haven′t even begun their planting. "Don′t count your biddies ′fore they′re hatched, gal young un!" her father tells her. Making the new farm prosper is not easy. There is heat to suffer through, and droughts, and cold snaps. And, perhaps most worrisome of all for the Boyers, there are rowdy neighbors, just itching to start a feud.
Do you have a favorite Newbery Medal winning book?